COVID-19 Vaccination Appointment
Vaccinate Clayton Update 
The Official end of the COVID-19 Public Health Emergency (PHE) is May 11, 2023.  One of the practical effects of the declaration to end the PHE is that the COVID-19 reporting requirements change at all levels—federal, state, and local.  Thus, the Clayton County Health Department District Department of Epidemiology will no longer report COVID-19 data with the level of detail to which you may have become acustomed.
Moving forward, we are asking all stakeholders to access COVID-19-related data through the following websites:
Information on vaccination rates:
https://experience.arcgis.com/experience/3d8eea39f5c1443db1743a4cb8948a9c
Information on COVID-19 statistics:
https://dph.georgia.gov/covid-19-status-report
The Clayton County Health District will continue to provide COVID-19 testing, surveillance, and immunizations as we move forward into our next phase of COVID-19 managment.
Vaccinate Clayton Statistics
 September 2021 to September 2022
As of September, 2022, 50% of Clayton County Residents (141,519) are fully vaccinated (vaccine and one booster) and 56% percent of Clayton County Residents (157,744)  have received the vaccine.  58,518 have had the vaccine and two boosters which is 41%. An additional 20% have had the vaccine and three boosters. In Clayton County to date there are 148 confirmed COVID-19 cases, 5 hospitalizations, and 0 deaths.  Compared to September, 2021 there were only 38% of Clayton County Residents (107,313) fully vaccinated and 44% percent (124,676) had received one dose and  634 confirmed COVID-19 cases, 39 hospitalizations and 13 deaths.
 Together we can make a difference.  Our best shot to fight COVID-19, reduce the number of deaths and hospitalizations, protect yourself and others from long-term symptoms, and help reach herd immunity for our community is to vaccinate Clayton! 
** Information was provided by the Georgia Department of Public Health
News Release
Board Approves Optional Mask or Face Covering Policy
Face masks and face coverings are optional, not required, for employees and visitors within County facilities located in unincorporated Clayton County. Resolution 2022-90 was unanimously passed by the Clayton County Board of Commissioners at the Tuesday, May 17, 2022, Regular Board Meeting.

The Board of Commissioners hereby resolves that, for the protection of members of the public and County employees, including members of vulnerable populations and members of other populations at risk have the option, but are no longer required to, wear face coverings over the nose and mouth.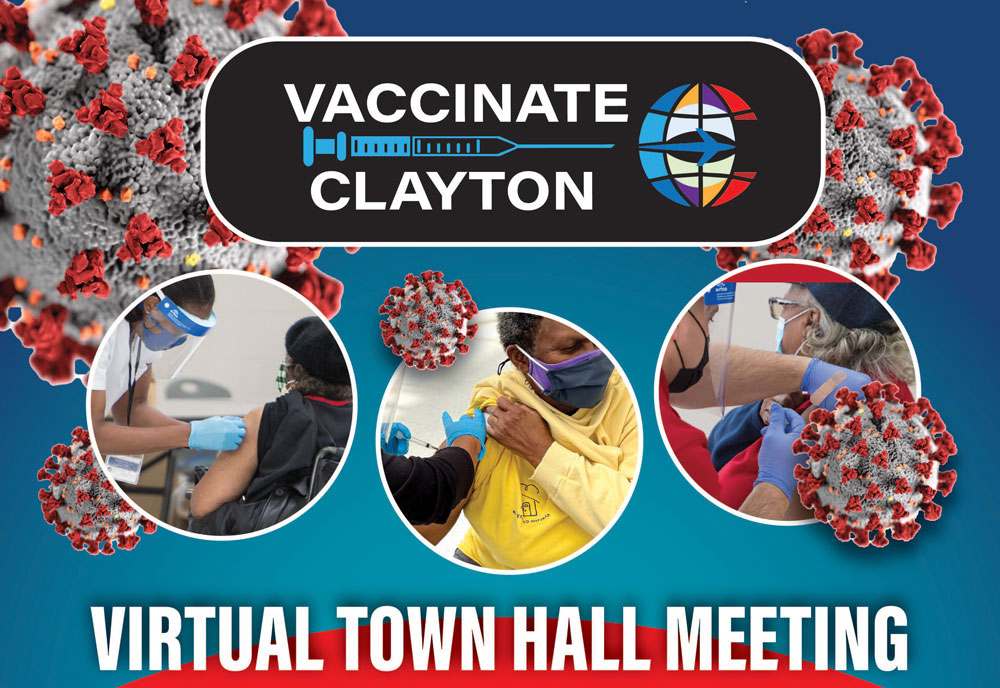 Vaccinate Clayton Town Hall Event
The Clayton County Board of Commissioners Office of Communications hosted a Vaccinate Clayton Virtual Town Hall meeting on Thursday, March 24, 2022, at 2 p.m. The purpose of this town hall meeting was to share information about the Coronavirus (COVID-19) cases and vaccinations. A panel of public health officials and county leaders  answered questions for citizens, businesses, and employees.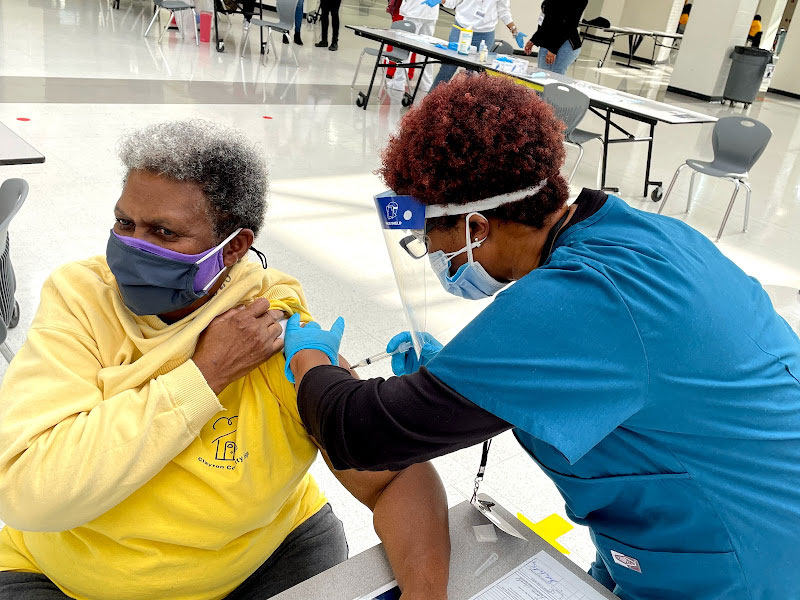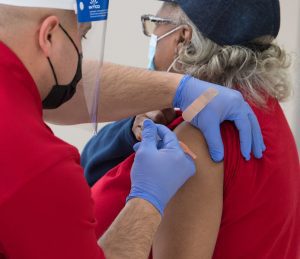 COVID Booster Shots
Everyone 18+ years who is fully vaccinated against COVID-19 is eligible for a booster.
When?
At least 2 months after a 1-dose vaccine, Johnson & Johnson/Janssen
or
At least 6 months after a 2-dose vaccine, Pfizer-BioNTech or Moderna
Eligible individuals may choose which vaccine they receive as a booster dose. Some people may have a preference for the vaccine type that they originally received and others, may prefer to get a different booster. CDC's recommendations now allow for this type of mix and match dosing for booster shots.
Not all types of vaccines will be available at all sites. For information about COVID vaccines or to schedule a vaccination appointment visit dph.ga.gov/covid-vaccine or vaccinefinder.org.
DPH continues to stress the importance of vaccination for all Georgians aged 5 years and older. Vaccination is our best tool to protect lives and stop the spread of COVID-19 in our state.